The Sandstone at Portico - LOCATION
Located in the heart of NCR, in Capt. Henry Javier Street, Oranbo, Pasig City, The Sandstone is strategically placed to be able to have easy access to some of the country's best and most prestigious establishments. Within a 2km radius, there are so many schools, malls, hospitals, churches, and train stations that will allow you to satiate your needs and wants faster – essential in today's modern life. Go further within a 13km radius and reach some of the country's most prestigious and best establishments that you can only find within the NCR. Ease of access in terms of commuting and/or driving is essential in a today's busy and hectic modern life.
The following are some of the most notable establishments, schools, malls, and recreational venues that can be easily reached from The Sandstone:
Bonifacio Global City – is one of the leading financial districts in the Philippines. It's starting to take over Makati as the location of choice for banking and services. You will be able to find "Market! Market!" in the BFC, a popular mid-range mall offering a wide variety of goods and services. Reach around 20 minutes using the fastest route.

Ortigas Center – a popular financial and central business district, Ortigas Center is the home to many shopping malls, bars, and offices. It's large, at 4,033 hectares, Ortigas Center definitely boasts a wide selection of almost everything your modern and busy life needs as a complement.

Robinson's Galleria – one of the largest malls in the Philippines, Robinson's Galleria offers over 400 different stores, restaurants, and other services. Reach it within 16 minutes at moderate traffic.

PhilSports Arena – if you're a fan of PBA and UAAP, then you'll be very glad to know that you can easily reach the PhilSports Arena in about 5 minutes of walking. Most Filipinos love watching PBA and UAAP, but watching it in the flesh certainly offers a very different experience.

Meralco Theater – for fans of theatrical shows, you can easily reach the venue within 16 minutes even under heavy traffic.

University of the Philippines – a top rated Philippine University, UP Diliman can be reached within 40 minutes of driving even under heavy traffic.

Immaculate Conception Academy – an all-girls elite private school, your daughter, niece, or granddaughter will surely love it here and can be reached under 30 minutes under heavy traffic.

Xavier School – an all-boys elite private school, very close to Immaculate Conception Academy and can also be reached under 30 minutes under heavy traffic.

Ateneo De Manila – one of the best and elite private University in the Philippines, get here under 30 minutes under heavy traffic.

Medical City – one of the top hospitals in the Philippines offering latest medical technologies. Get here in just under 15 minutes under moderate traffic.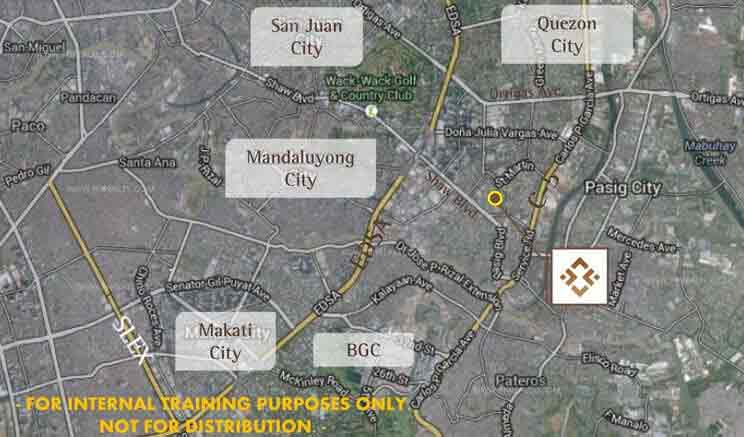 Situated at the heart of one of the top two central business districts in Metro Manila and within the vicinity of rapidly progressing Pasig City, Portico comes with all the expected benefits of urban courtyard living. That's just the norm when you reside in Oranbo Drive, near the corner of Shaw Boulevard.
Top medical institutions: check. With the Medical City, Medical Plaza Ortigas, and St. Luke's Medical Center BGC, all conveniently accessible from Portico, all your medical needs will be taken care of by the country's top experts.
The same goes for the kids education with St. Pedro Poveda College, La Salle Greenhills, Xavier School, and the University of Asia and the Pacific all close by.
And the breadth of lifestyle and leisure choices need not be stated with the EDSA Shangri-La Plaza Mall, The Podium, Robinson's Galleria, and Greenhills Promenade, Valle Verde Country Club, Wack-Wack Golf and Country Club, and the Meralco Theater all in close proximity to this ground breaking property.